Samstag, 24.02.2018
Wine And Grine - Ost-Pol Dresden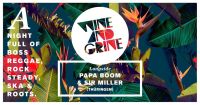 Sir Miller + PaPa Boom
DJ Sir Vivor
DJ King Irie
22:00 Uhr
Wine And Grine - Jamaican Vintage Sounds
A night full of Boss Reggae, Rock Steady, Ska & Roots.

Auch wir starten ins neue Jahr und freuen uns auf unsere Gäste PAPA BOOM & SIR MILLER aus dem Land von Bratwürsten und Bauhaus - Thüringen. Musical pleasure for your dancing feet!

Und natürlich wie immer auch mit uns, King Irie & Sir Vivor (Wine & Grine, Dresden)...
[mehr]